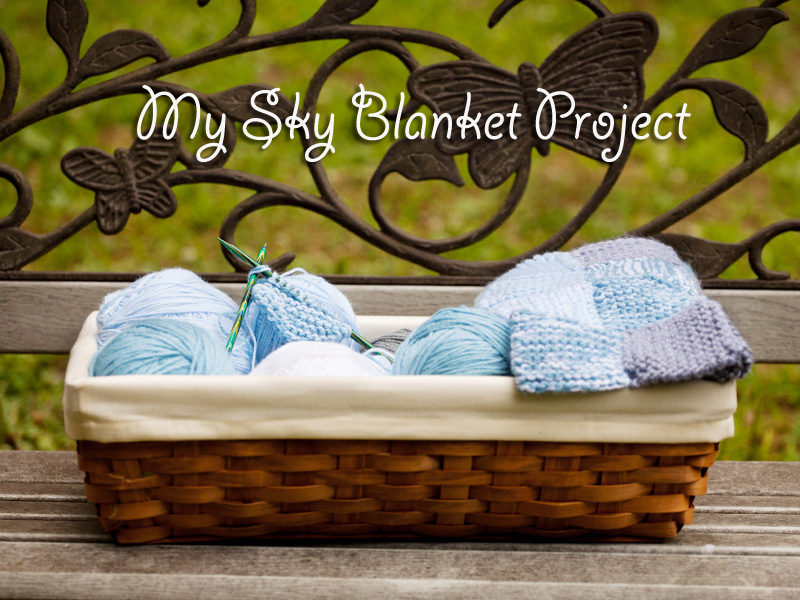 In 2012 I stumbled across a super cool knitting project, and instantly fell in love with the concept.  Simply put, you knit a row a day of a scarf using the colors of the sky that day.  Yarn is held double stranded, so you pick the two colors most prevalent (like light blue and white for a blue, cloudy sky or two strands of dark blue for a clear, dark blue sky) and knit back and forth, carrying the extra yarn up one side.  At the end of the year, you have a beautiful scarf that illustrates what the sky looked like for the whole year.  You can see the whole project, with instructions here:  Sky Scarf
I really, really wanted to make a sky scarf, but I never really found a pattern that I wanted to knit, so it eventually slipped from my mind.  At the end of last year I was browsing some knitting blogs and found where someone had a stroke of genius and used the Sky Scarf idea, but instead made it as a blanket.  I loved this idea even more, because who doesn't love a gorgeous granny square blanket?!?!  I ran to the store and found my yarn, bought a little notebook to keep track of the sky colors every day.  (I am realistic people!  I knew I wouldn't knit a square and sew it to the blanket every single day for a year).  We won't talk about how far behind I am, but at least we are keeping up with the journal.
You can find the complete instructions here if you would like to make your own:  How to Knit a Sky Blanket
I am just doing the knitted garter stitch squares like she has in her instructions, but if you check out the Sky Blanket Group on Ravelry, there are people crocheting it and using other patterns for their squares, which look beautiful as well.  (For you knitters, I'm left-handed.  My needles aren't placed there wrong.  🙂 )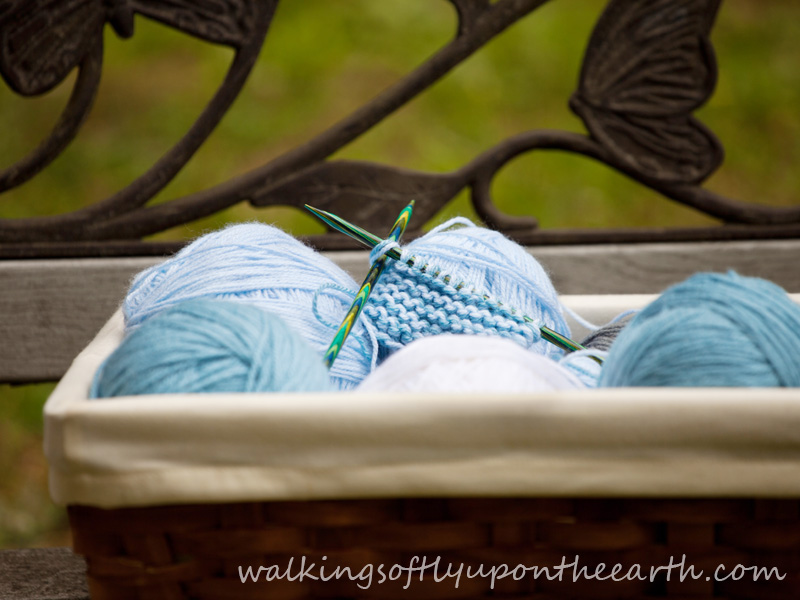 My handy dandy notebook.  😉  The kids are helping me keep up with this.  They love coloring in the little squares every day.  During the school year we kept it in the car and they took turns filling them in for me on the way to school.  Summer has proved a little more challenging, but we are doing a pretty good job remembering.  My Super Awesome Husband keeps insisting that no one will point out a wrong square if I forget and have to make one up.  *eye roll*  What does he know….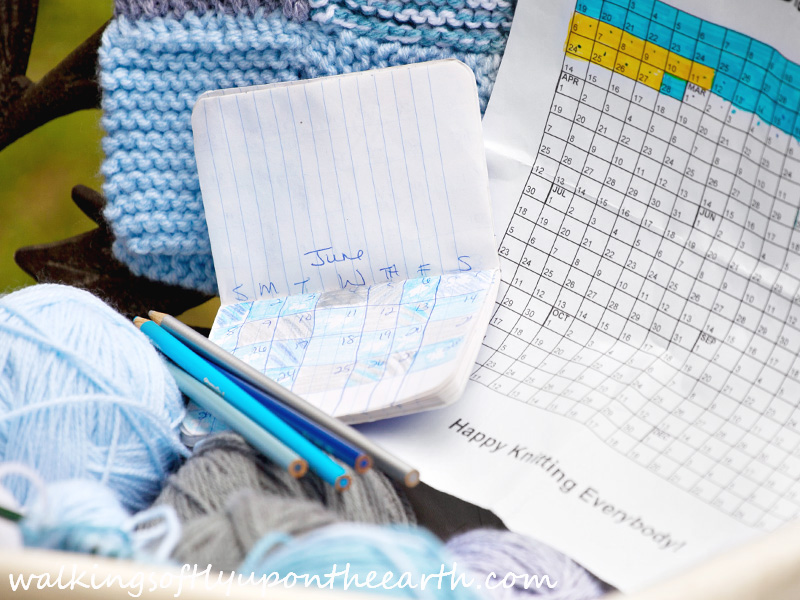 The project chart came from a generous knitter on Ravelry.  I am using the notebook to record the daily sky, and the chart to keep track of the squares I have sewn to the blanket.  Do me a favor and don't look too closely at my progress, would ya?  I've gotten another whole row sewn to the blanket since I took these photos.  I'm catching up!!  🙂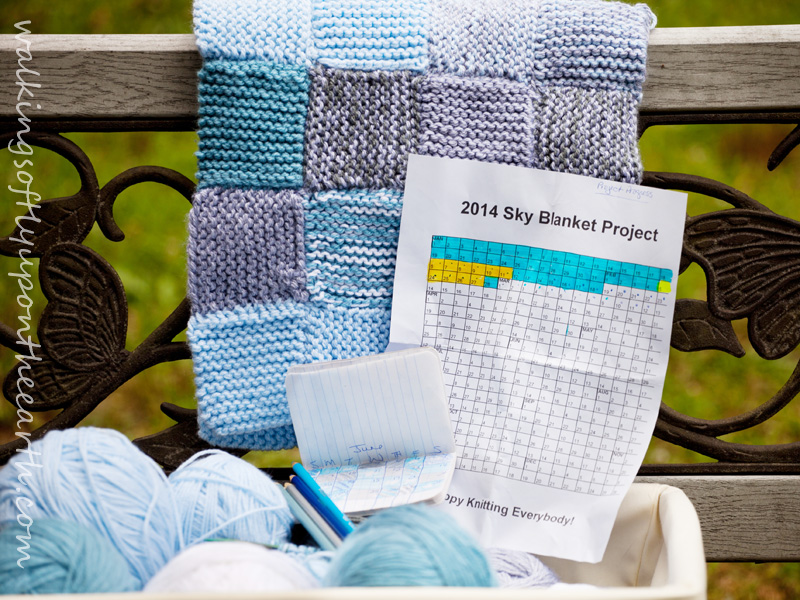 My little squares.  They really take no time at all to knit.  I am just TERRIBLE at sewing, so that is where I am falling behind.  I probably should have figured out how to do it without having to sew.  Hindsight.  Sigh.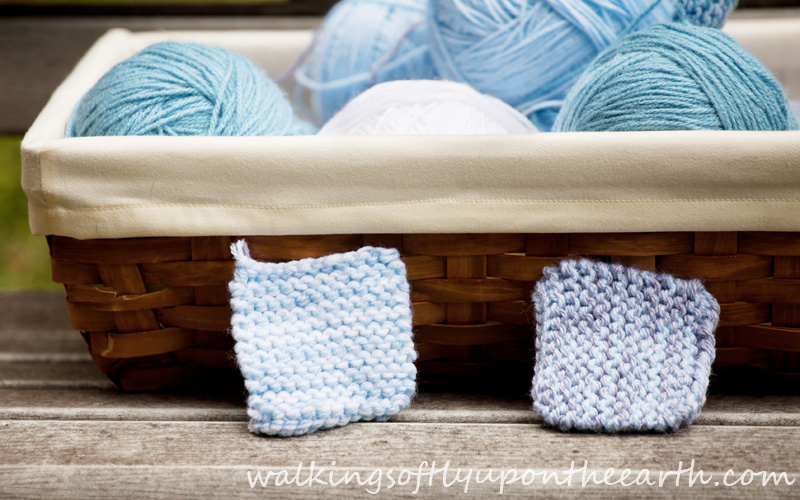 I love the colors!  It's going to be sooooo pretty!!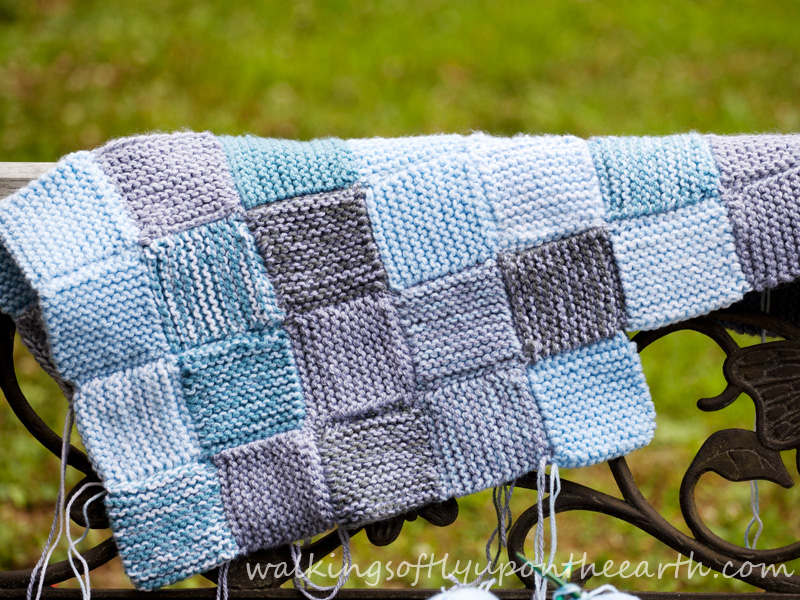 To make things easier on myself, since some days the sky changes and goes through all of the colors, I have been trying to just do our first glance at the morning sky.  This can still cause disagreements on the way to school when the kids see more than two colors.  I know you'll never believe that three kids can argue over something so simple.  (Hear my sarcasm)?  🙂  I just give myself the deciding vote and stick to the two most dominant colors, or what I think it will look like for most of the day.  My five year old still doesn't get why I just can't make a square with all of the colors.  🙂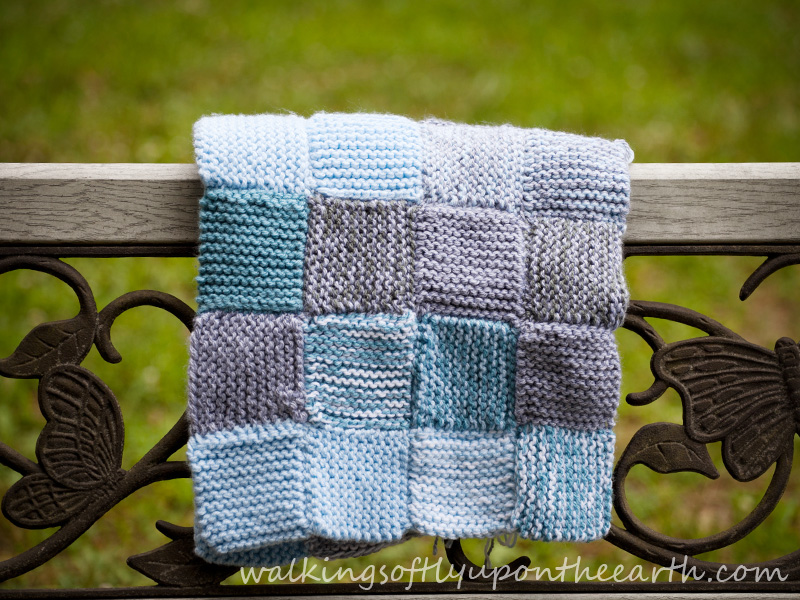 I'll try to post updates from time to time so you can see how it's going.  Just don't expect a finished project on New Year's Eve!  🙂