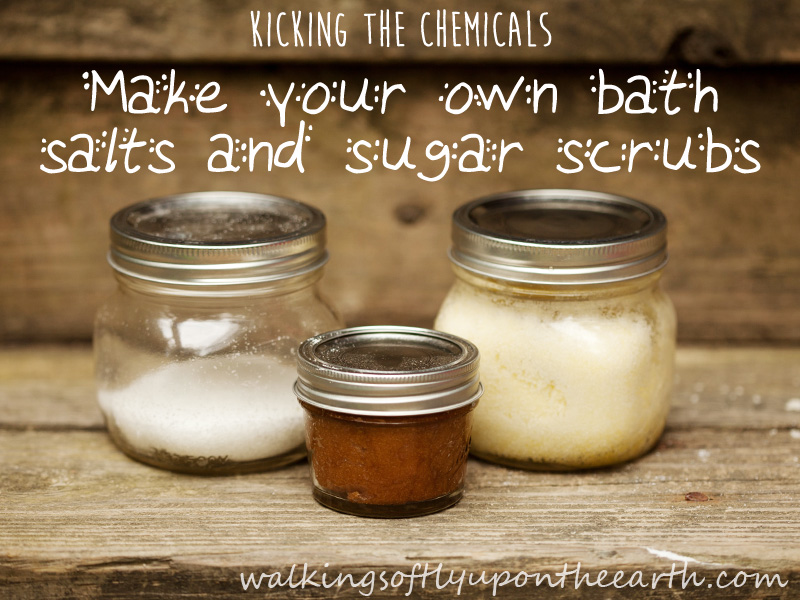 My post about my balls, I mean my DRYER balls 😉 has been so popular that I think I am going to do a little series we are going to call Kicking the Chemicals.  As you've heard I am doing my best to rid my home of as many harmful chemicals as I can. We're talkin' house cleaners, people cleaners, moisturizers, air fresheners, well, you get the picture. So let's get this party started!!
As a mom of three, my days are busy and insanely nuts a little crazy sometimes.  My *me* time is my bath in the evening.  Kids go to bed.  Mom takes a bath.  Sometimes I take a good book in and read while I soak, and others just close my eyes and totally relax.  A nice, hot bath is awesome, but a yummy smelling one is even better, so I've been a bit of a bubble bath, bath bomb, bath salt, bath oil, etc., collector.  Then I read the ingredient list on one.  Well, if that wasn't a bummer I don't know what is.
First, I needed a good exfoliating scrub for the shower.
Sugar Scrub
1 Cup Sugar
3-4 Tablespoons of oil (olive oil or grapeseed oil are my favorites for this)
5 drops of essential oil
Or
1 cup brown sugar
1/2 cup liquid coconut oil
5-8 drops of essential oil
My favorite scent for this is 4 drops of Lavender Essential Oil + 8 drops of Lemongrass Essential Oil, but use what you like.  The good thing about this is you can also make the scent as soft or strong as you like.  Big bonus for someone like me who is super sensitive to fragrance.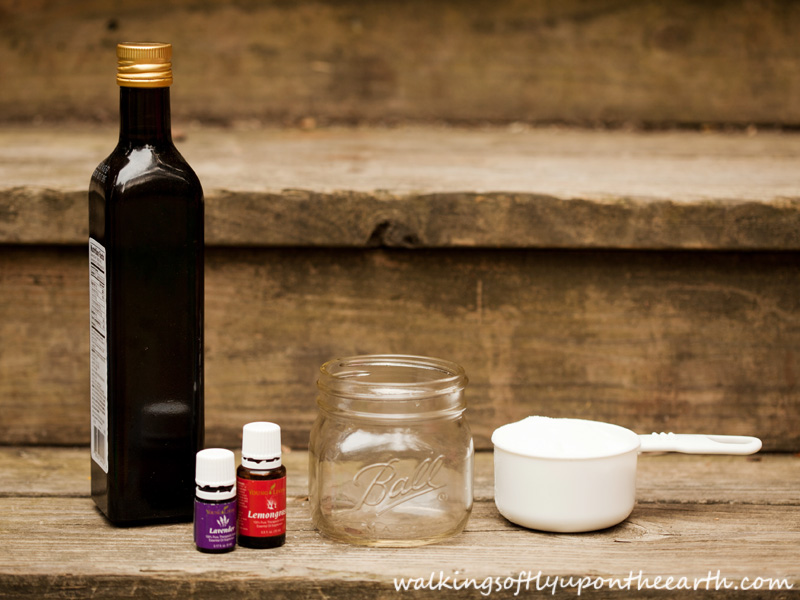 Gather your ingredients and add your oil and essential oils.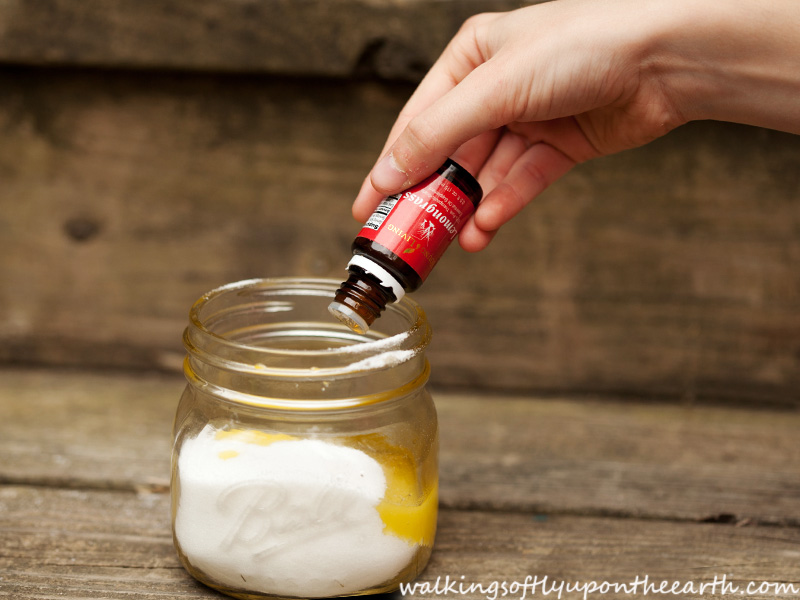 Mix well and you are ready to go!  A little goes a long way, so take it easy the first time you use it so you don't waste a bunch.  Also, if you don't have a non-slip mat in your bath, be careful while you are showering and spray the floor down when you are finished so that the next person doesn't end up with crazy slippery floor.  Because chances are fairly decent it will be you, and you don't want to recreate the Bambi on ice scene the next time you step in the shower.  Not speaking from personal experience of course….  (insert guilty whistle here)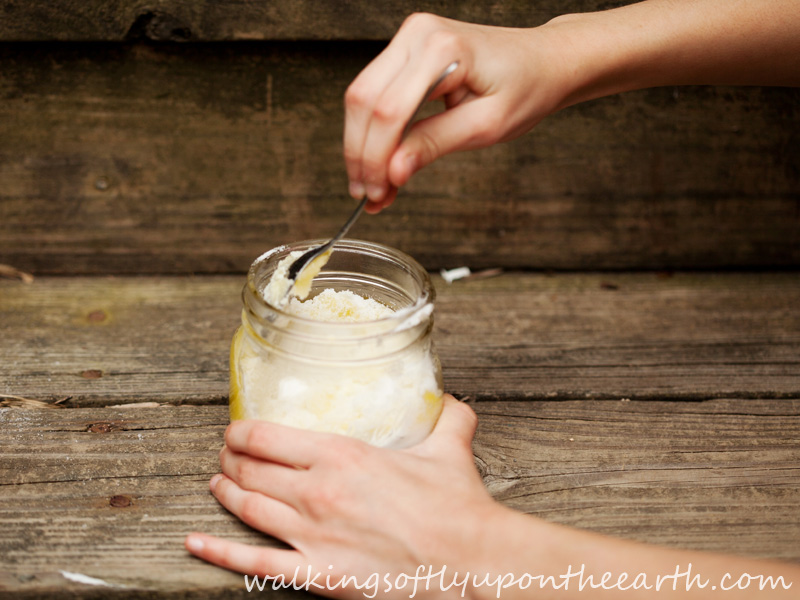 Next came scenting my beloved baths.  Epsom salts are fantastic for baths!  Be sure to drink lots of water before and after!  FYI The bath salts don't make my tub slippery like the sugar scrub does.  No Bambi.  🙂
Bath Salts
1/2 cup Epsom Salt
4-6 drops of essential oil
Directions:  This couldn't be simpler.  Dump your epsom salt into a container.  (The above amounts make enough for one large tub or two regular sized tubs so make as much or as little as you like).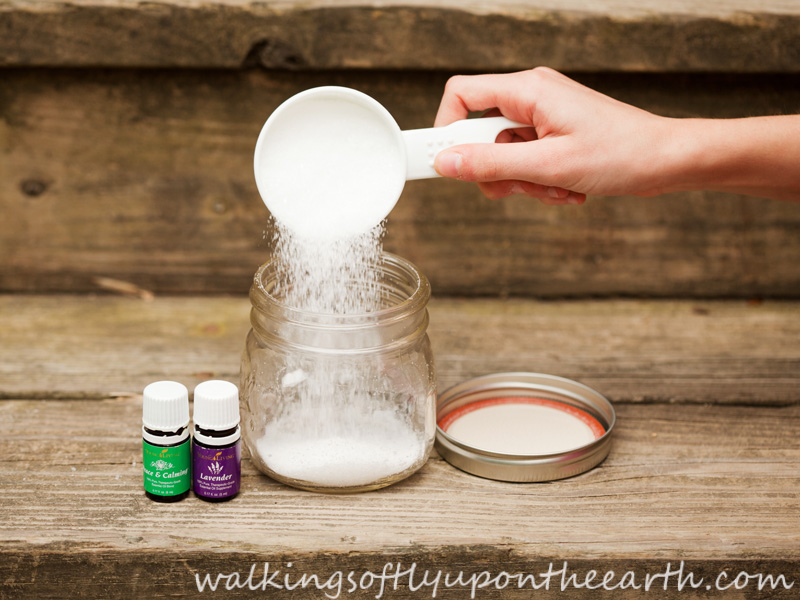 Add your favorite essential oils for scent and to help anything that ails you.  My favorite combination for a super relaxing bath experience is Lavender and Young Living's Peace & Calming.  Sigh.  Heaven.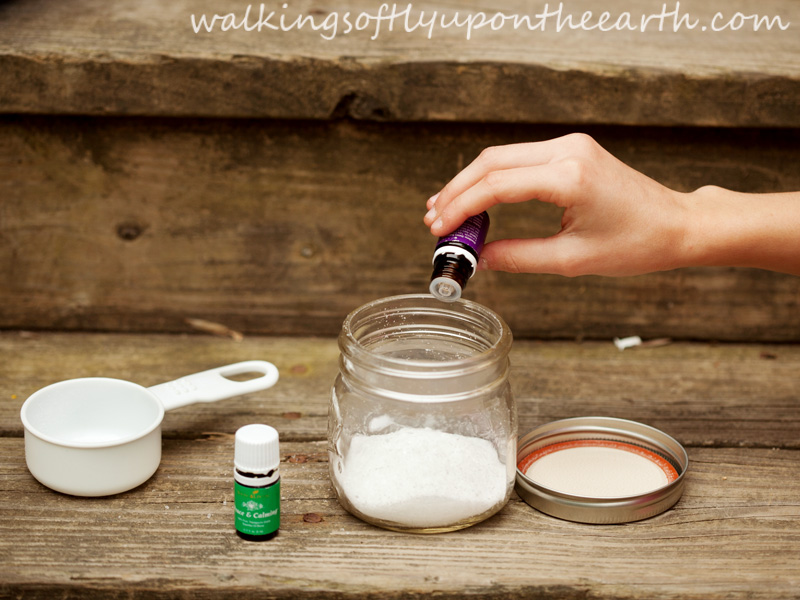 Put the lid on and shake that bad boy up!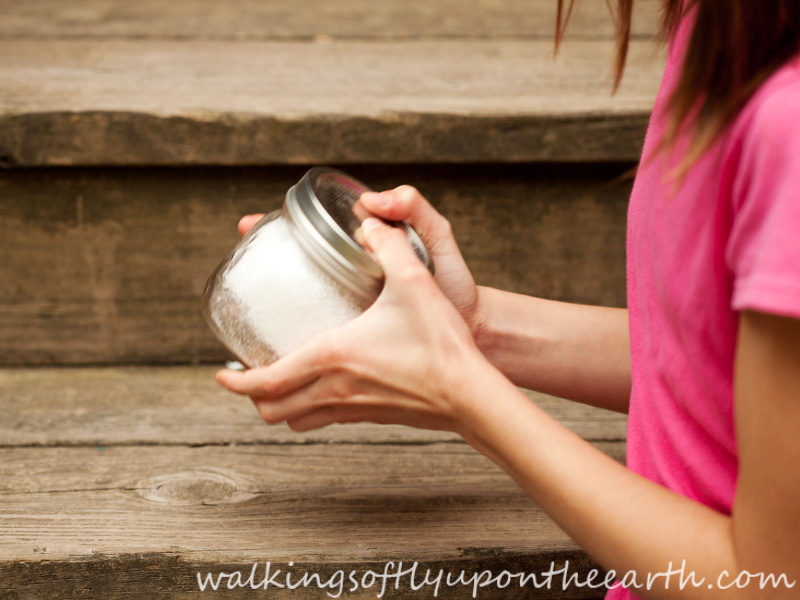 I wish you could smell the yummy-ness!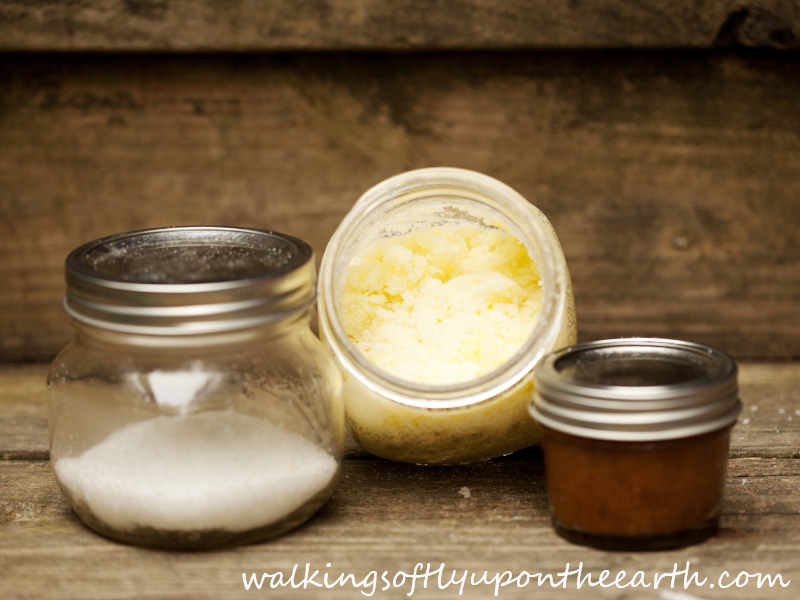 These make super fantastic gifts as well.  I just got an email this week from my old favorite online body and bath product site saying they missed me.  Cringe.  I told you I had a problem.  🙂  We actually had a package from them delivered to our house that should have ended up down the street.  My Super Awesome Husband shook his head and told me that means I ordered too much from that company if the FedEx driver just assumed it was mine.  🙂  And now, my friends, I am reformed.
If you would like more information about Essential Oils you can click here, or shoot me an email from the contact page above or directly to walkingsoftlyupontheearth@gmail.com and I would be happy to answer any questions you might have or send you a free sample.
Have a great weekend!  🙂