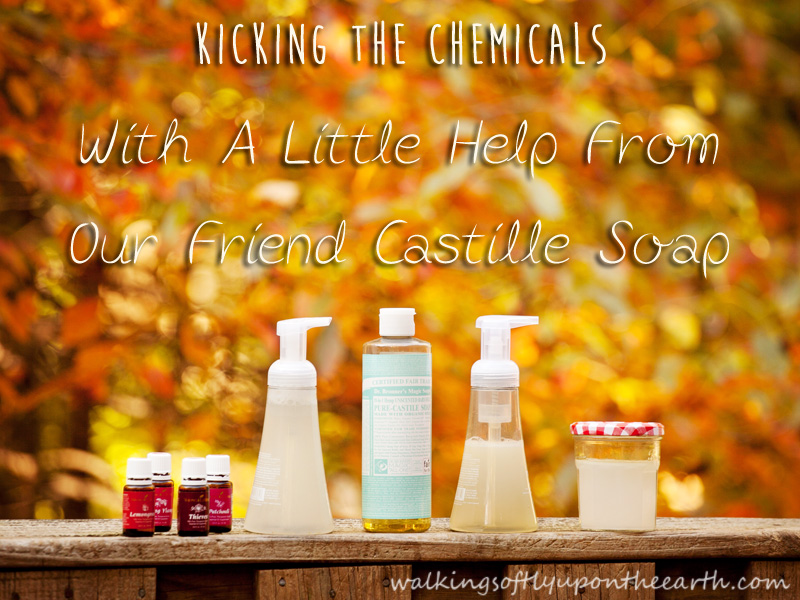 Today we continue our Kicking the Chemicals series, as I try to rid my home (and yours) of as many chemicals as possible.  I've recently discovered the wonder that is castile soap.  So did the Super Awesome Husband when he saw the bottle sitting on the counter.  I saw the eyebrows raise as he lifted the bottle to see what it was and got an eyeful of the label.  Whoops!  I knew some explaining was called for, because, really, have you SEEN the Dr. Bronner's Castile Soap label?  Eek!  But all I could say (with an apologetic look on my face) was a weak "It's a really safe soap to make other soaps with."  How lame?  So I threw out "It's all the rage with the hippie crowd."  (For those who have just joined us my Super Awesome Husband is really freaking awesome, but the woman he married was not this crazy, crunchy, health conscious, gardening geek that I have become the past five years.  He is patient and supportive, but I am a constant recipient of the eyebrow raise and eye roll before he humors me).  His response?  "Should we really be taking soap advice from hippies?"  😀  Well played Super Awesome Husband.  Well played.  But the castile soap stays.  Score!
I am going to share three crazy cool recipes I am now using in my home.  Antibacterial soap was a big offender I wanted to ditch, but with the months approaching that my children are always the sickest, I still wanted a really good soap to clean those grubby little hands.  Here's what I found:
Foaming Hand Soap
1/4 cup of castile soap (I love Dr. Bronner's Unscented Baby Mild)
5 drops essential oil for scent and extra germ killing power (I LOVE using Young Living's Thieves for this)
filtered water
Directions:  All you have to do is put your castile soap in a clean, empty foaming hand soap dispenser (I reused some that I had), add your essential oils and fill the rest of the bottle with filtered water.  Mix gently and you're ready to go.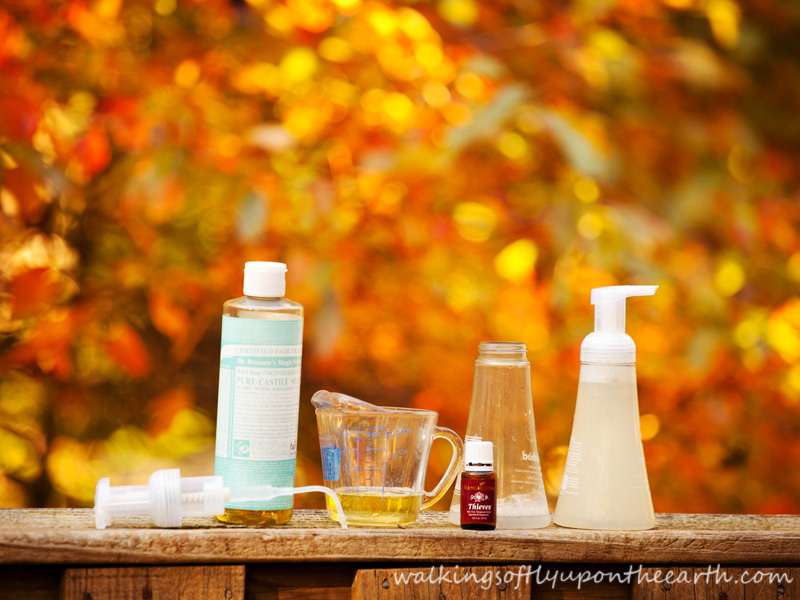 I only use soap on my face once in a while because my skin is so dry and I've had a hard time finding something that is gentle enough for even using a couple of times a week.  This recipe is wonderful!
Foaming Facial Cleanser
1/3 cup castile soap
1/2 tsp. sweet almond oil or olive oil
10 drops of Ylang Ylang Essential Oil
6 drops of Patchouli Essential Oil
4 drops of Lemongrass Essential Oil
2/3 cup filtered water
Put all of the ingredients in a foaming soap dispenser and mix gently.  This leaves my face feeling wonderful, and doesn't cause any additional drying.
This last recipe was a great find for me.  I don't wear a lot of makeup, but I do like my mascara.  My eyes are super sensitive though, and most makeup remover was either too greasy or burned my eyes.  I found this recipe, and with a slight alteration, it was perfect!
Eye Makeup Remover
1 cup of filtered water
1/4 tsp. of unscented castile soap
1 1/2 tsp. of olive oil
Put all ingredients in a little jar and swirl to mix.  I swirl it a little before I dip my cotton ball in each time just to disperse the oil.  When I get down to the end of the jar I usually need to add just a little bit more oil so that it still works well.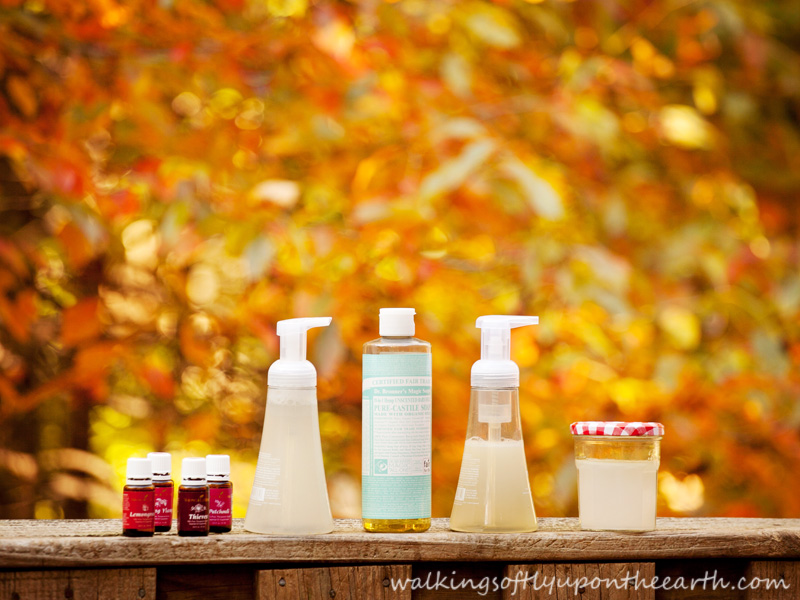 And there ya have it!  Three more chemical filled products kicked to the curb.  🙂  Proof you CAN take soap advice from a hippie!  😉

If you would like more information about Essential Oils I love and use, you can click here, or shoot me an email from the contact page above or directly to walkingsoftlyupontheearth@gmail.com and I would be happy to answer any questions you might have or send you a free sample.
DISCLOSURE:  This post may contain affiliate links, and I may receive compensation for sharing products and information on this site.  All thoughts and opinions are my own.  Thank you for supporting Walking Softly Upon the Earth!  See this page for full site Disclosure.