Sorry! I know that's incredibly corny. 🙂 I decided that before I got too far in to this whole blogging adventure I needed to make it official and get a template that had everything I needed and get my domain purchased and running. I'm certainly not saying the look won't change again in the near future, but I've settled on this for now. (A week of clicking through templates and trying them out was enough to make me insane and I need to get out in the garden people)!! I changed the banner image for the springtime too while I was at it. My daughter informed me she preferred the bird in the tree, but winter lasted long enough this year! I didn't want to look at the snowy branches here any longer.
So please, if you like what you see when you visit, sign up on the right side to receive email notifications when I post so you don't miss anything. Also, you can find links to my Facebook page, Twitter (though I still need to learn Twitter) and Pinterest here now as well. They are all set up, but I may need a few more days to get everything really linked and rolling.
Enough rambling? Want a garden update and some pictures? Me too! 🙂
With the weather being so crazy I never did get peas planted in the garden.  🙁  I have a couple of pots of sugar snaps on my deck, so hopefully they will give us a good bunch to snack on.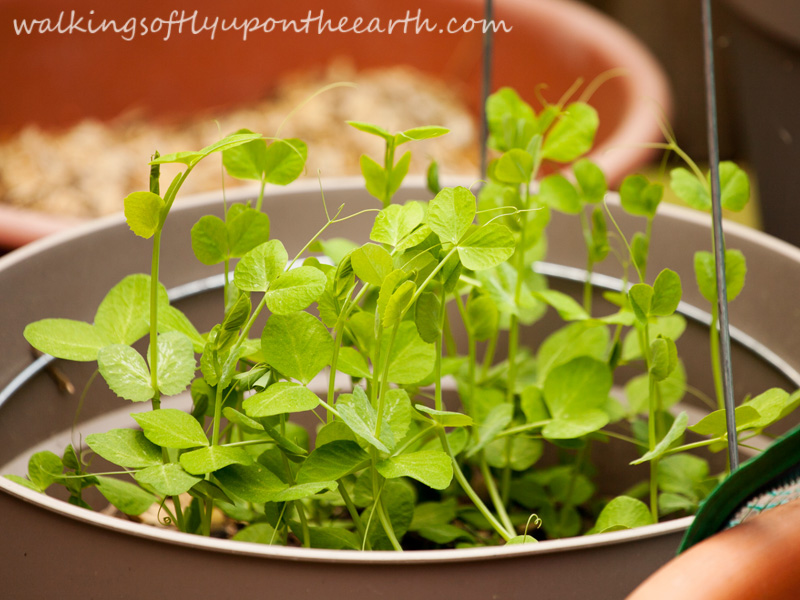 The peppers looking gorgeous!  I wish I had enough pots to move them up a size and give them a little more room like I did with the tomatoes.  Maybe next year I will buy some since I have lots of extra room with the new greenhouse.  I am also trying an experiment with a handful of them destroying them by chopping the whole top off, I mean carefully pruning them.  I recently watched a video which demonstrated pepper pruning, so scary as it might be, I decided to try it out on a few that were trying to bloom right now, before they got put into the ground.  I'll let you know how it goes!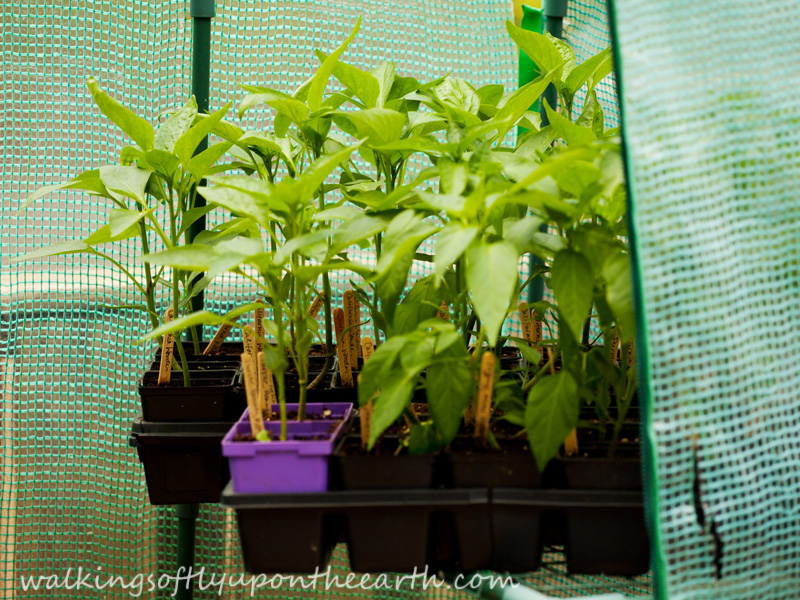 Redbor Kale looking mighty fine!  I have some in several different places, and the color is all slightly different.  Most of it is more purple, but this window box is in a slightly warmer/brighter spot, so it is more green.  So cool!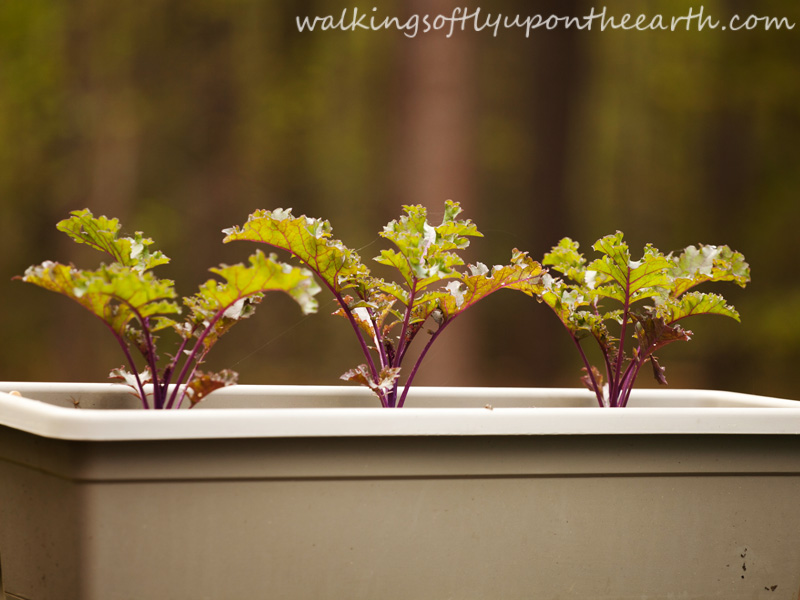 I have had this window box on my back deck for a very long time.  I'm pretty sure I put it out there right after we moved here, so probably like 12ish years?  I planted marigolds once and have always dropped seeds from the plants on top when they finally fizzle for the year and I chop the dead ones down.  I love that I never have to replant them, and last year I added rabbit manure to the box and they were so huge, I had to dig some out and put them in the garden because there wasn't enough room for them all.  I think our insane winter ruined my streak though.  :/  Either that, or I will have to just let the 4 or 5 plants that came up have the box to themselves this year and hope for better seed survival next year.  We'll see…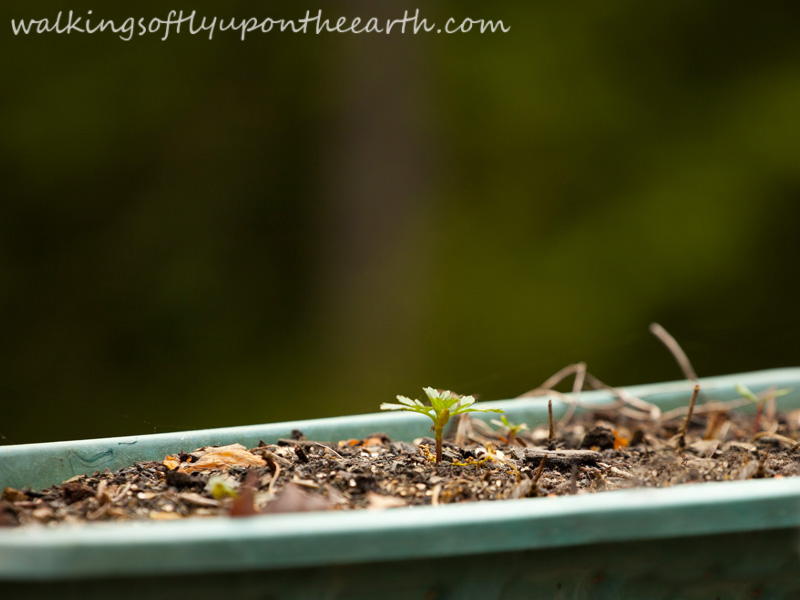 My herb "garden."  If you don't do any container gardening, you really, REALLY should!  It's so fun and easy and WAY convenient!  My herbs have always been in window boxes on the deck.  I use them a lot more when I can just step out the door and cut myself some beautiful, fresh herbs!  There is also basil and parsley that reseeded on their own coming up in this box.  The purple sage is new for me this year.  It's so pretty!  I've wanted some for quite a while and am really excited to have found some!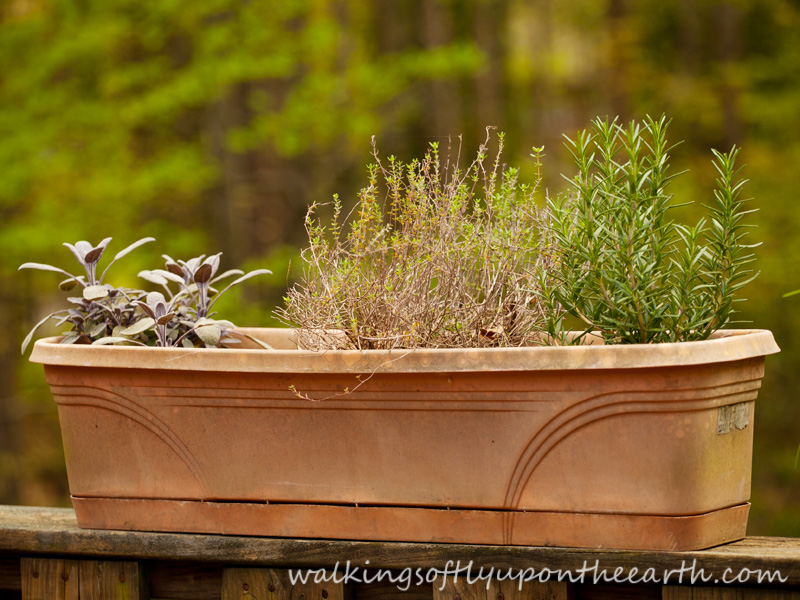 The chives and oregano.  These both came from my mom's garden years ago, and come back every year so pretty.  I'll tell you a secret though.  I have never, ever used the chives.  Ever.  I keep them because the flowers are sooooo pretty and they originally came from my grandmother's garden.  I guess I'm a sentimental gardener, but there's something special about having plants that came from people dear to your heart.  🙂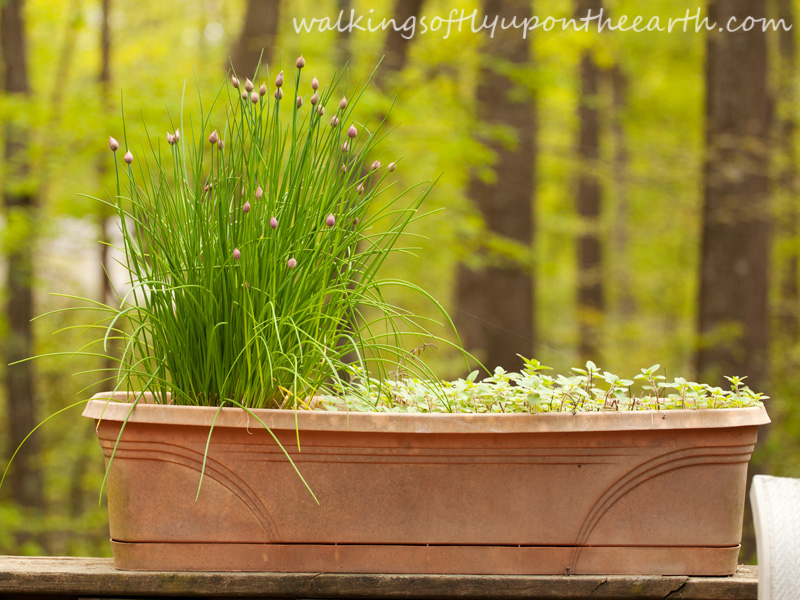 There's a little action from the main garden for you.  Beets making their appearance.  See, told you I was late.  :/  Darn weather!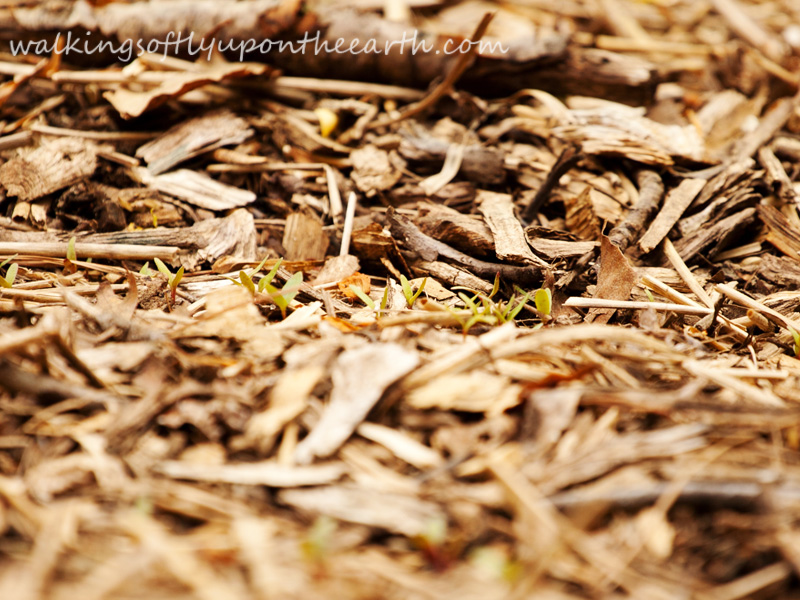 Nature is so awesome!  This is the spot I dumped the contents of our compost bin last fall.  It was almost ready, but not quite, so I covered it with straw to hopefully keep out any critters and let it finish over the winter.  There are literally hundreds of baby tomato plants coming up!  I wish I knew what type they were.  It will kill me to pull them all up, but this is the spot for the squash and cucumbers.  I normally love volunteers, but there's just too many of the silly things.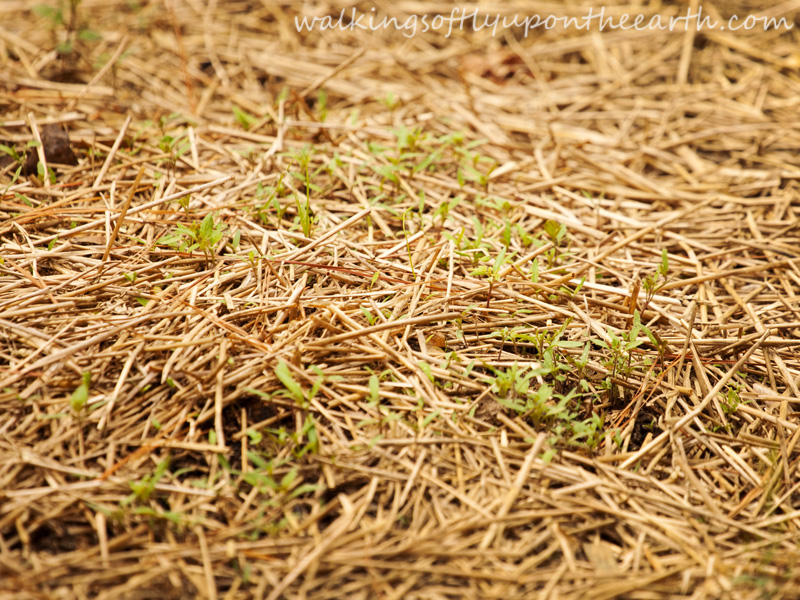 I have to go out again and count the number of flowers and baby berries on this one plant.  I just couldn't believe it!  I planted the strawberries last year and covered them with woodchips when they were done.  (Had to add some straw a couple months ago when they were popping up and it was going to snow again).  I am hoping we are going to have tons of berries soon!  Strawberries are my favorite!!!  And apparently they go ga-ga for woodchips!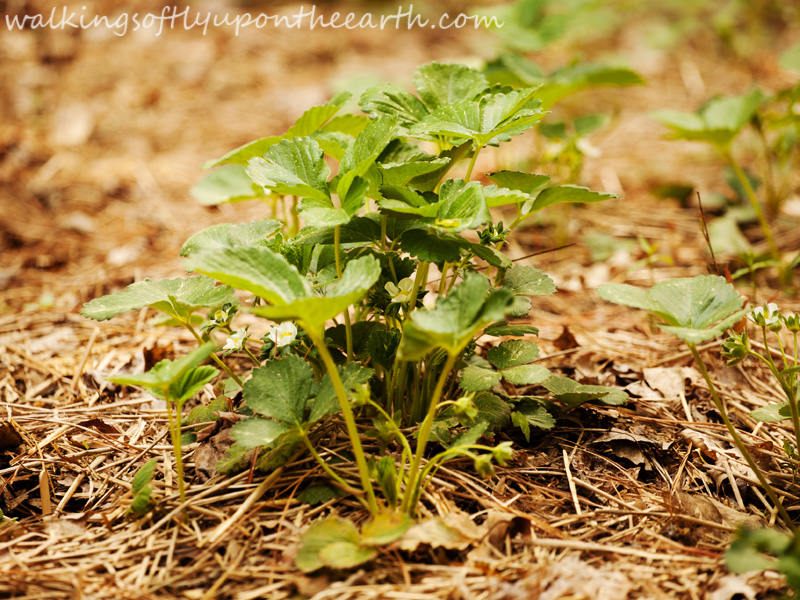 Ah!  Now here's a volunteer that gets to stay!  Pretty sure it's a pumpkin, but we'll have to wait and see.  I didn't leave anything in this spot, so I'm not quite sure what got carried there.  I think I put the broccoli and cauliflower in too late again.  Sigh.  One year I'll get it right!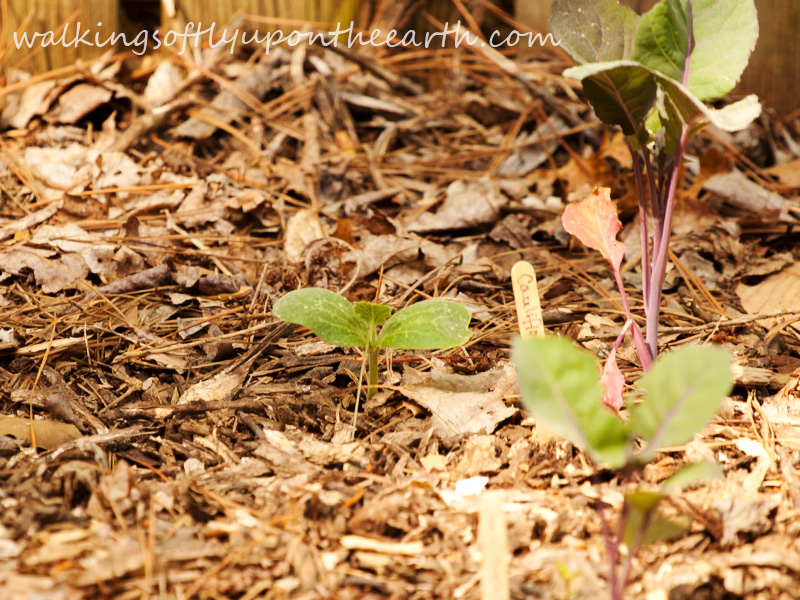 The plum tree.  So exciting to see the "sticks" that I planted coming alive!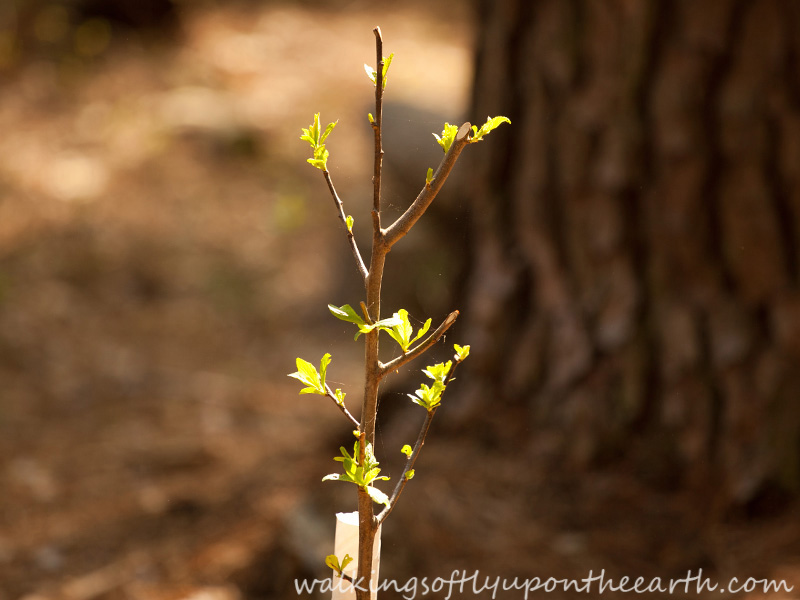 Now my parents gave me a GORGEOUS peach tree for my birthday!  It was covered in blooms and so pretty really that I would want one even if it didn't fruit.  One of our late frosts got the blooms, but I am keeping my fingers crossed they had time to get themselves pollinated.  I'm not sure if these are baby peaches or not.  Fingers crossed!!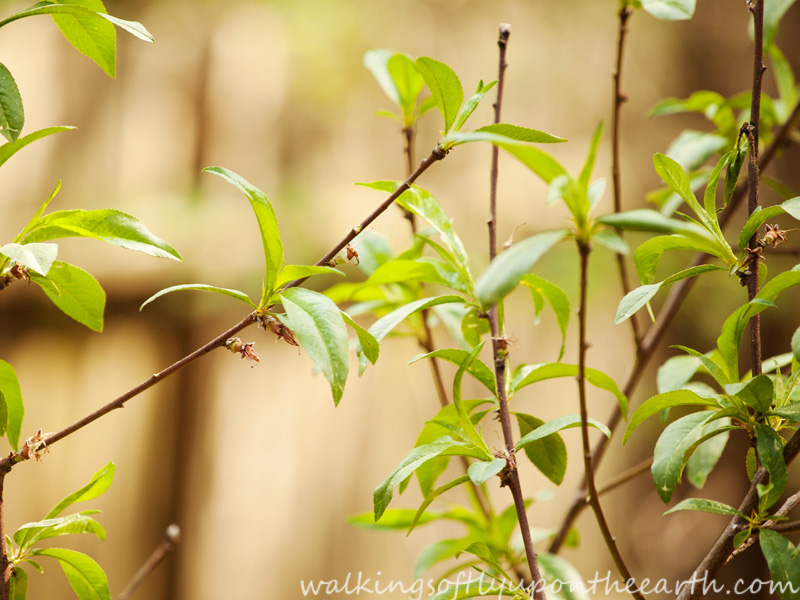 Another volunteer.  Can you see it on this side of the strawberry plant?  It's a sunflower!  We fed the birds this winter and one must've dropped one of the black oiled sunflower seeds, because I found the shell next to this little guy.  I'm still trying to decide if I need to move him or not.
I've been cutting buds off the tomato plants all week, but decided to leave these on one of my Sweet Pea Currants.  It might stunt the plant, but do I care?  NOPE.  This girl is ready for some 'maters!  🙂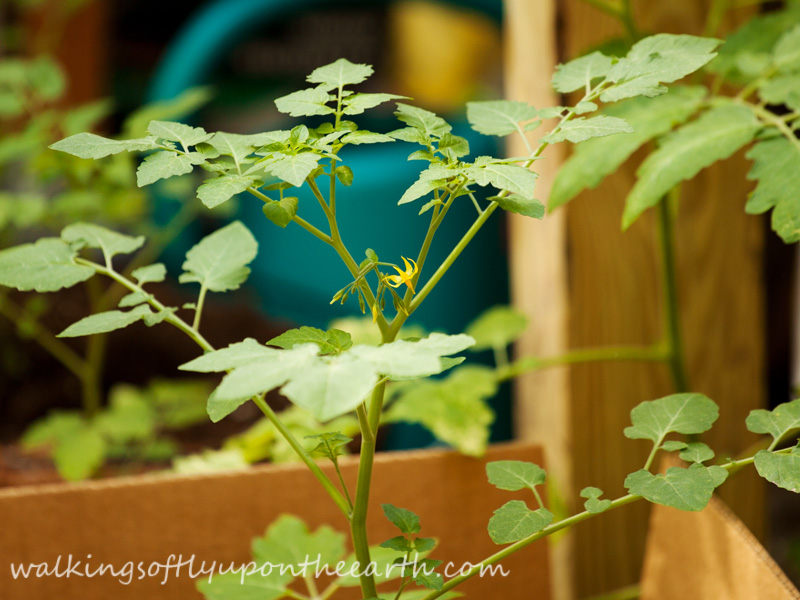 They're going in the garden this weekend!!!!!  Woo Hoo!!!!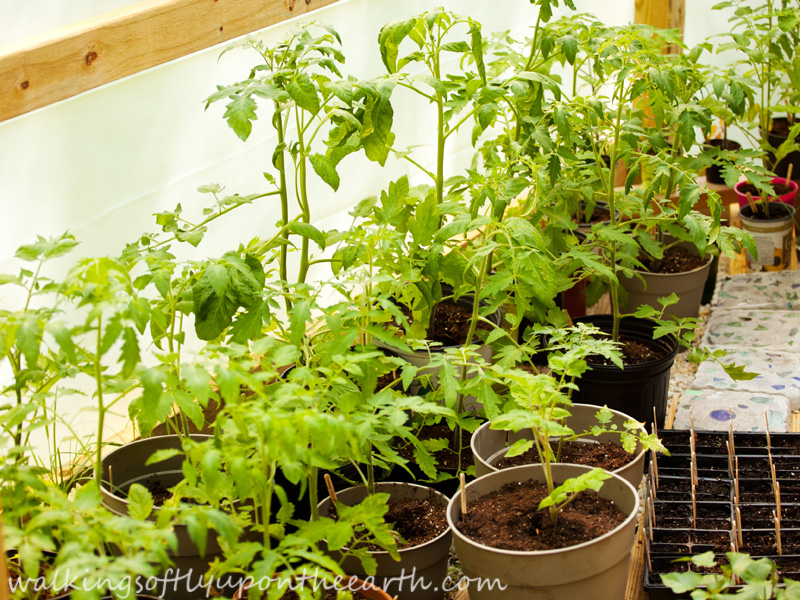 Malabar Climbing Spinach anyone?  My mom brought me the seeds from a plant and garden show.  Yay mom!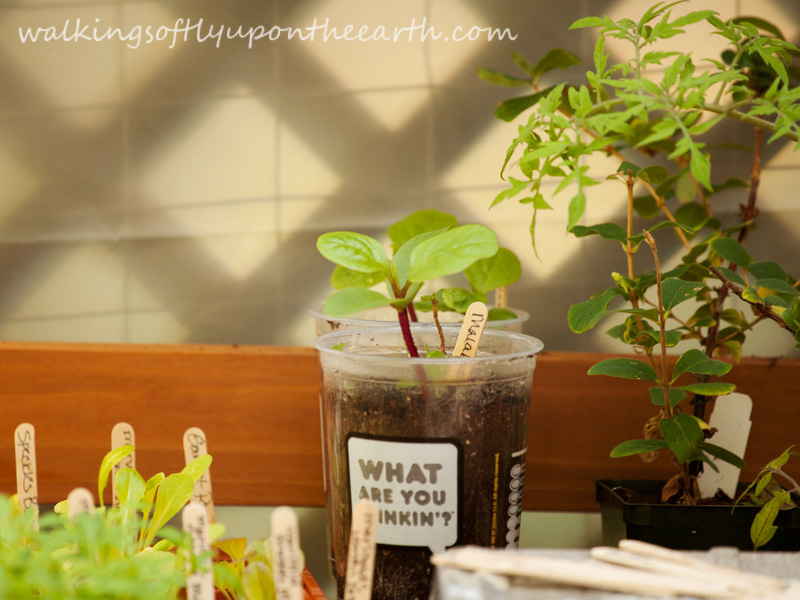 An extra Japanese Black Trifele plant I'm leaving the blooms on too.
Look who I found sunning himself in my yard.  He was so itty bitty he was almost cute.  Almost.  Hopefully he'll grow up and eat some of my stupid moles and voles and we can be friends.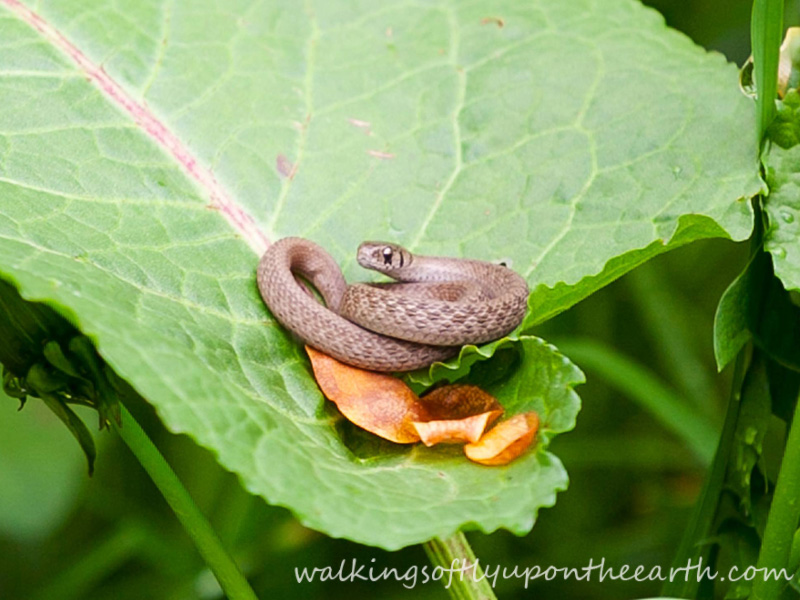 Can't wait to get in the garden this weekend!!!!!  🙂